Imagine a world where accessing and managing real estate listing data wasn't holding you back. Learn how we partnered with HomeStack to remove data barriers and supercharge their ability to scale.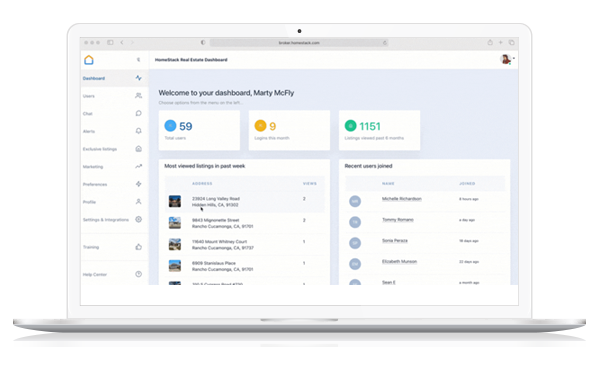 "Constellation1 is allowing us to time travel.
Now, we can look into the future and focus on our strategy."
— Will Grewal, Co-Founder and CEO, HomeStack
Managing MLS data feeds
Managing multiple real estate data sources is tough. The amount of time and energy to do it successfully often saps up valuable resources, keeping many companies from scaling in new lucrative markets. Removing those barriers means setting your team up for success. Read on to learn how HomeStack, our customer since 2020, did just that.
HomeStack is a Los Angeles-based real estate tech company that creates customized mobile apps used by thousands of agents and millions of consumers nationwide. MLS data is the raw input for its white-label apps. No data, no product.
Overcoming MLS data challenges
It isn't always clear when a tech provider should start outsourcing their data management. For HomeStack, it was when they started growing and scaling, but couldn't move as quickly as they wanted.
"Before partnering with Constellation1 last year, on average, we were onboarding about one to two MLSs per quarter," said Will. But the high demand for HomeStack's customized apps meant they needed more. The problem was that managing data took up too much time and too many resources. They needed a data shortcut, and our team gave them one.
The MLS listing data shortcut
Constellation1 is the ideal listing data shortcut. We have established relationships with 95% of the MLSs in the United States and Canada. This means we've already completed the back-end work to make MLS data work together. The result: a single source for real estate listing data and feeds that can be spun up almost at the push of a button.
Today, HomeStack's technology is powering two million users, a five-fold increase in under a year. Before, HomeStack used a "land and expand" model for exploring new markets, forced to limit themselves to where they could negotiate MLS relationships. Now they can start a dialogue about a new MLS and be live in just a few days—growing where they want without any data barriers.
Empowering teams
Constellation1 doesn't just break down data barriers to empower your team, we aim to be one of its most valuable members. We communicate transparently, work to understand your business needs, and put together a customized solution just for you. Our customers consistently praise us for being a great partner, and when we say partner, we truly mean it.
Outsourcing MLS data management has allowed HomeStack to leverage the creativity and expertise of their team, focus on making great products, provide top service, and create a unique customer experience without data holding them back.
Learn more about how we helped HomeStack supercharge their scaling and set up MLS feeds more than 1,000 times faster in our customer story below.