Market trends reports are the perfect way to set up touchpoints with your leads. Are they the most powerful lead-gen tool you aren't using?
It's no secret that the real estate market is red hot right now. Inventory is at historic lows, bidding wars are the norm, and multiple all-cash offers are increasingly common. But no matter what the market is doing, one thing remains constant: people are obsessed with it.
In November 2020, the New York Times reported that "Zillow-surfing" had become a common new hobby and that, "scrolling through real estate listings in far-flung destinations is a way to visualize an alternate life, whether you're trying to move or not." Whether it's scrolling through listings, exploring new neighborhoods, or trying to figure out the perfect time to buy or sell, potential buyers and sellers go crazy for market information. What better way to capture their attention—and their contact information—than with a beautifully designed market trends report? Read on to learn more about the ways your brokerage can harness the lead gen power of market trends reports and keep your lead funnel full in 2021.
Buyers and sellers crave information. Satisfy that craving.
These days, with the wealth of information available at our fingertips, we've been trained to crave, and to seek out, the information we want. Why not bring the right information right to eager homebuyers and potential sellers instead of asking them to look for it?
A well-designed market trends report backed by the most up-to-date and reliable data in the industry is the perfect resource for getting real estate information into your leads' hands. Show them key statistics, active listings, and encourage them to get in touch with you when they're ready.
Data-driven decision making
Data is what drives every single real estate transaction. It drives agents and brokers, and it drives buyers and sellers, too. Buyers want to know if it's a good time to buy and what kind of house they can afford. Sellers want to know when to list to maximize their potential return. Recent homebuyers want to see how much their home's value has appreciated. So how can your agents share all of these data points with prospects and clients to ensure they can make data-driven decisions? A market trends report. Potential buyers can see median home prices by zip code and active listings, sellers can see how prices are fluctuating and how quickly they might expect to sell, and recent homebuyers can see how the price per square foot has changed over a given period.
Important regular touchpoints
When it comes to cultivating leads, consistency is key (without being spammy). By consistency, we mean regular contact, so that your brokerage remains top of mind when it's time to buy or sell a home. Being able to automatically send reports every 30, 60, or 90 days means that your agents can provide timely information at the right frequency without bombarding anyone. The right information about the right market conditions might just inspire someone to take action and get in touch, especially if your agents are also following up regularly with key information about interest rates, capital gains exemptions, and other useful tips.
Email blasts are replacing direct mail
Paper mailers and licking stamps are going the way of the dinosaurs. While a well-executed, targeted mailed postcard or flyer campaign can be wildly successful in certain markets, your business will get much more bang for its buck by giving your agents the tools to switch to email blasts and automated messages like a market trends report. Help your agents reach thousands of qualified leads in seconds and deliver useful information readers actually want to read!
Market reports help demonstrate your expertise
When your agents share market trends reports backed by Constellation1's industry-leading data, they look good, which makes your brokerage look good. Our data expertise and stunning design paired with your business's branding and customizations mean leads receive beautiful market trends reports with key, eye-catching information and a variety of ways to follow up and stay in touch.

Users can easily subscribe to regular reports from your team.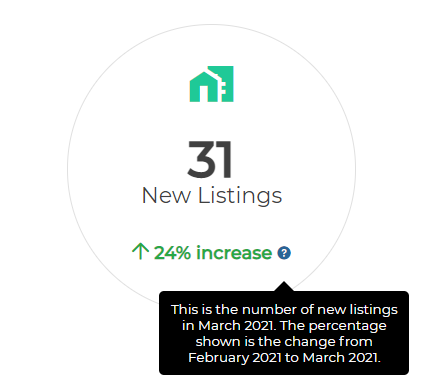 Reports provide helpful explanations to contextualize certain key statistics.
Add market trends reports to your brokerage's lead gen toolbox today
There are few lead gen tools as complementary (and carefree) as automated market trends reports. Give them a try today for your business. View a demo of the Constellation1 market trends report on our Showcase sight here. Our reports feature:
The latest market data
Historical market data going back 2 years
Auto-emailed reports every 30, 60 or 90 days
Dynamic data in a responsive design
Unique URLs for easy sharing and lead tracking
Current Constellation1 Websites customers can add market trends reports to their websites by contacting their account managers.
If you're not a Constellation1 Websites customer yet, book your personal tour today to learn more about the real estate industry's best brokerage and agent website tool.