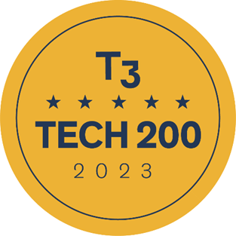 T3 Sixty, the leading management consulting and analytics firm for the residential real estate brokerage industry, just released its highly anticipated 2023 Tech 200 list, which highlights the leading tech products in the real estate industry.
"Each of the products featured on this year's list are best-in-class solutions," said T3 Sixty's president and CEO Jack Miller. "At a time when many business owners are tightening budgets and looking for the best ways to allocate their dollars, the Tech 200 is a powerful asset they can use to make their most important technology decisions."
Are you tightening your budget?
Learn why a strategic tech investment could be
your most valuable long-term move right now.
The most-recognized company in 2023
Of the 78 products highlighted in the 2023 Tech 200, 13 are from Constellation1, more than any other company. A 14th is from Offrs, which is part of our family of companies within the Constellation Real Estate Group.
To finalize the Tech 200 list, T3 Sixty looks at a wide range of criteria, from the depth, breadth, and reliability of each solution to its market share, client satisfaction, adoption, and reputation. Finally, it looks at long-term viability and company stability.
We excel in every single one of these metrics at Constellation1. Let's look at the solutions that were recognized this year.
Best-in-class real estate technology
The Tech 200 list focuses on 6 areas of the real estate tech landscape: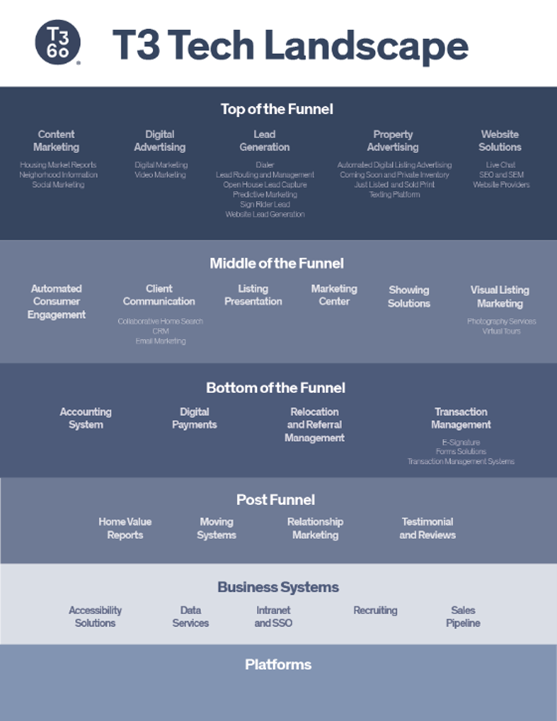 Image courtesy of T3 Sixty
Our solutions and services were named in 4 of these 6 areas, and we even work with other leaders named in this year's list behind the scenes (such as providing our data services expertise) to power their products and make them even better.
We've earned the trust of both impartial industry experts and our peers, and it's a testament to our team's expertise and hard work.
Top of funnel solutions
Real estate is a lead-driven industry, and having a steady stream of leads is critical for success.
Constellation1 CRM was named one of the top 5 lead routing and management solutions on the market, and when it's paired with Constellation1 Websites, it is the foundation of an efficient lead gen machine. Our website solution was also recognized among the best in the industry, and it's easy to see why. Our real estate SEO expertise paired with our design-forward and uniquely customizable websites have helped some of the best brokerages in the business soar to new heights.
Learn how Vylla Home
increased its web traffic by 2,000%

Middle of funnel

solutions
Once you've generated the lead, you need to be able to nurture it through meaningful engagement.
In addition to being mentioned in the top of funnel category, our Digital Marketing Suite was recognized as a middle of funnel solution for its photo capabilities and stunning virtual tours, which took off during the times of social distancing and are now a must-have for every listing.
Learn how top performers close up to
3 deals per week thanks to our Digital Marketing Suite

Bottom of funnel solutions
Beyond lead generation and nurturing, brokers need effective ways to run their businesses the way they want. Our solutions were also recognized among the best in the industry in this category, including Constellation1 Accounting, our highly rated and extremely robust real estate accounting solution, and Constellation1 Relocation, which provides end-to-end relocation and referral management from a single cloud-based platform. Our electronic signature solution, Constellation1 eSign, was named among the best e-signature solutions available, standing toe-to-toe with some of the more recognizable names in the industry.
Business systems
The best brokerages always have an eye to the future, looking for ways to refine, forecast, and optimize their business.
Constellation1 Data Services was recognized as one of the top 5 data services providers in the industry for helping our customers do just that. We have more than 20 years of experience building our center of excellence for real estate data, and it shows in the quality of our services.
Read all our Data Services success stories
How do we do it?
At Constellation1, we owe this recognition to the people behind our products. Our stellar and expert team is what makes it possible to dream up, develop, and deliver reliable products that delight our customers, win market share, and drive adoption. This, in turn, makes us a partner people want to do business with. After decades of hard work, we've grown to become the strong and trustworthy brand we are today. Thank you to all the stars in our constellation to whom we owe this great achievement.
Be a part of our constellation, too!
If your business is looking for the best real estate technology, you've come to the right place. Schedule a callback below and a member of our team will reach out to you shortly.