Operating a real estate brokerage is hard work. To help keep everything running smoothly, admins and brokers use countless programs and procedures to track transactions, schedule showings, manage money, and more.
Some of these programs have been holding offices back because they don't perform as promised. They are often desktop-only applications with dated and clunky user interfaces (UI), making them hard to learn and use. As brokerages evolve, embrace technology, and develop flexible and modern business practices to meet the demands of their agents and consumers, they are stuck with software that makes them work in the inefficient ways of the past instead of the streamlined ways of the future. The result: unreliable workarounds like paper checklists, Excel spreadsheets, manual calculations, time-consuming data entry, and more. We get it, the fear of change and moving on from the static, outdated technology you know can be daunting.
So now what? At Constellation1, we believe in solving problems, not accepting them. Research, development, and innovation are in our DNA. We knew there was a better way. Today is a new day, and there is finally a new way to run your back office: our NEW Constellation1 Commissions.
Read on to learn more about the top 5 NEW Constellation1 Commissions features that will change the way you manage your back office—and your commissions—forever.
Feature 1: Sleek, intuitive user interface
As we've mentioned before, customer experience is a crucial element of success and growth, for both brokerages, like you, and technology partners, like us. As the global consulting firm Accenture has observed, "to remain relevant and compete in today's ever-changing world, customer experience strategies need to be top of mind for every stakeholder in your business."
To that end, we've redesigned our user interface from top to bottom with you, our customers, in mind. Say goodbye to the clunky, unresponsive, and counterintuitive UI you've been stuck with and say hello to an interface that's sleek and easy to use with minimal training. Your entire team will be up and running in no time without any of the old headaches typically associated with learning a new software.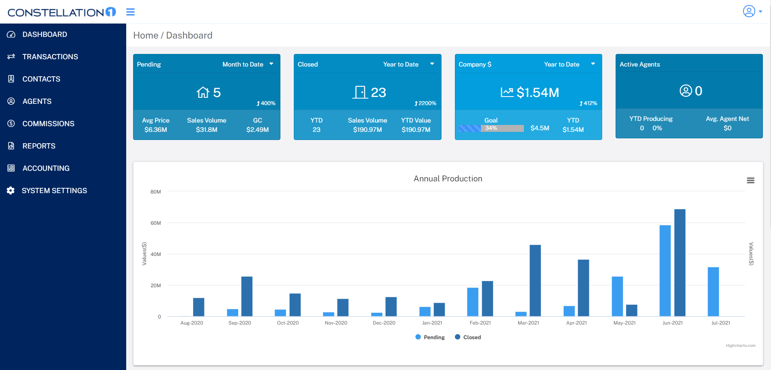 Feature 2: User-friendly wizards
The NEW Constellation1 Commissions features helpful, foolproof wizards for both setting up customized commissions plans and adding transactions that act like a friendly guide looking over your shoulder to help you cross your Ts and dot your Is. The NEW Commissions walks you through every step of your commissions plan in the right order to ensure the plan is perfectly set up. The transaction wizard also helps you enter transactions in just a few simple steps.

Feature 3: Completely customizable commissions plans
It's hard to emphasize just how flexible (and customizable) our NEW Constellation1 Commissions solution really is. No matter what commission structure your brokerage uses, if you can name it, you can add it to your own customized commission plan. You can then apply those plans to a single agent, a single team, or your entire office. No commission plan is too complex, and you can create as many as you want. No more Excel spreadsheets, weird workarounds, or manual calculations: our solution does everything for you.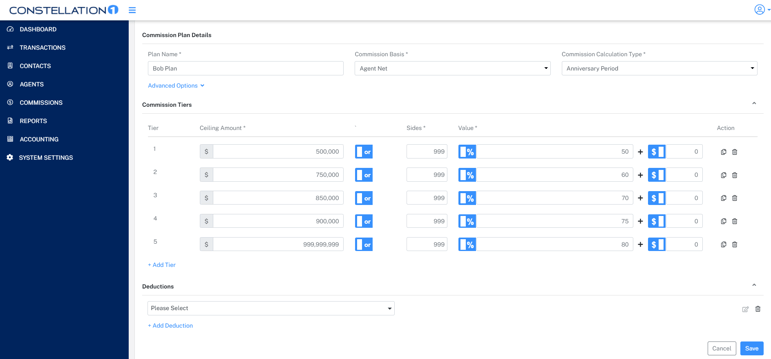 Feature 4: A host of seamless integrations
We've already stressed how important purposeful integrations before, purposeful integrations are for the real estate industry. We've designed the NEW Constellation1 Commissions to be insanely integratable. Now you can integrate seamlessly with QuickBooks®, allowing the NEW Constellation1 Commissions to handle all the heavy lifting and to plug in the correct amounts to the correct payees in your accounting software. You can also integrate with your TMS or MLS, with more integrations on the way. Stay tuned for more updates!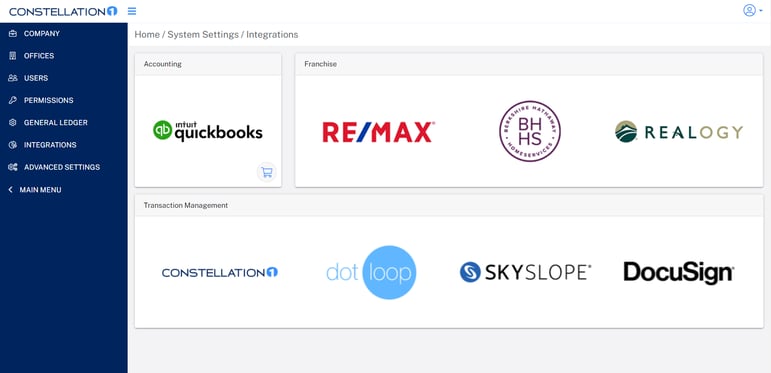 Feature 5: Detailed commissions reports
At Constellation1, we believe in putting data to work. We're real estate data experts, so we know that with the right data, anything is possible. To put the right data at your fingertips, we've created the most flexible commissions reporting capabilities in the industry, allowing you to use our out-of-the-box reports or create your own by simply dragging and dropping the fields you want into your report. The result: valuable data insights for informing your business decisions, optimizing your splits and fees, and tracking everything from commission advances to top performers and the most profitable sources of referrals.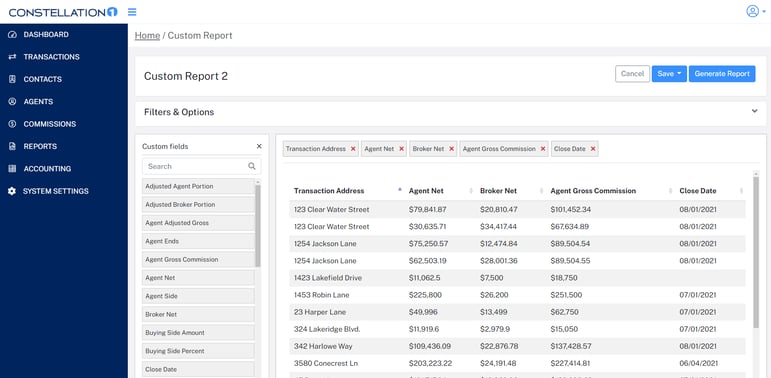 Give the NEW Constellation1 Commissions a try
The NEW Constellation1 Commissions is a game-changer: it's the new way to run your back office.
Your brokerage needs secure, scalable, intuitive, and easy-to-use cloud-based solutions to grow, whether you have 5 agents or 5,000. Click below to download our NEW Constellation1 Commissions feature sheet and schedule a demo with our Commissions experts.