Flavin Realty is a reputable, family-owned brokerage that has been a mainstay in southwest Louisiana for over 40 years. Like many companies, Flavin Realty was doing business using old-school tools, meaning manual processes and systems that didn't integrate with one another.
In 2018, under new leadership, Flavin Realty embarked on modernizing its tools. In 2019 however, following a failed relationship with a vendor that got acquired, resulting in poor customer service and the project never coming to fruition, Flavin Realty was on the hunt for a new solution vendor. The COVID-19 pandemic brought a sense of urgency and an opportunity for the company to re-evaluate its priorities.
"Back in 2018, we needed our agents to switch mindsets and get used to the idea of writing a purchase agreement in a parking lot from their phone. Now, we need tools to be even more mobile."

Melissa Hamilton, Sales Manager and Associate Broker at Flavin Realty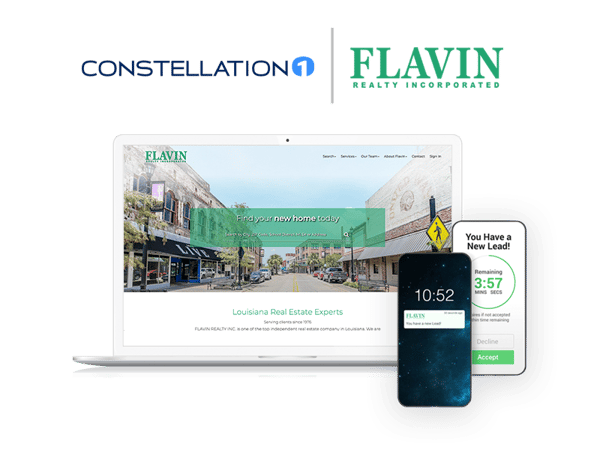 By leveraging Constellation1 Back Office, CRM with Mobile App, and Website solutions, Flavin Realty achieved its goal to improve search, lead routing and connected apps across their tech stack. With Constellation1 as their solution partner, Flavin Realty agents are more mobile than ever—with the right tools at their fingertips. With a vision to expand its business in the future, Constellation1 solutions make it easy for Flavin Realty to succeed.
Read the full customer story, and learn more about how Constellation1 is helping Flavin Realty succeed.