Multiple listing services (MLSs) are at a crossroads. The real estate industry is becoming increasingly reliant on technology, but dated ways of doing things and a lack of in-house technical expertise hold some MLSs back. Some have started to realize that if they don't invest in the future now, they will struggle to support their members. Others, like our partner, Valley MLS, have been embracing technology for years, and their investment is paying off. Read on to learn more about how solutions powered by Constellation1 have helped Valley MLS thrive.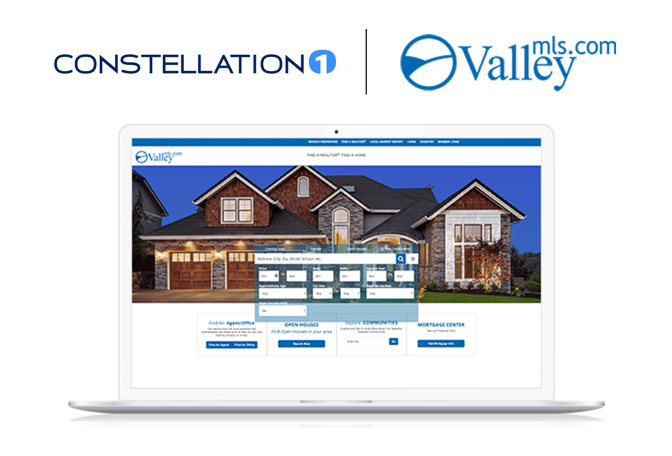 Valley MLS, officially ValleyMLS.com, is the leading MLS in northern Alabama since 1967. Before 2014, their customer-facing website was powered by WordPress, a platform that isn't made for real estate. They realized that their website was falling short: it was underperforming, had poor traffic, and lacked even such basic features as lead counting and tracking—features they deemed essential to be able to serve their growing customer base. To stay ahead and provide top-tier service to their members, they needed a new website.
Landing a long-term partner
Valley MLS formed a task force to find a new vendor and eventually selected Constellation1. After a comprehensive rollout phase, we launched their new website in 2014. Today, theirs is the most-visited MLS site in Alabama and has more than 1.2 million unique visitors as of the end of 2020. Their success has since attracted the interest of other MLSs in the region.
Valley MLS has a lot of great things to say about our partnership. "From day one, we have never, ever looked back or had any regrets," says Tammy Owen, Technology Director at Valley MLS. "The site was up and running on time and since then, the entire Constellation1 team has been incredible, releasing updates and enhancements and taking care of any issues. The customer support has been excellent. We can't say enough good things about Constellation1."
What convinced Valley MLS to choose Constellation1 Websites? Read on to learn about the six selling points they fell in love with and couldn't do without today.
Data expertise
For MLSs, property searches are at the top of the priority list. MLSs have a wealth of property data they need to make available to members and homebuyers quickly and easily. Valley MLS's former site lacked the property search capabilities its members needed. Our data expertise allowed us to make all of Valley MLS's fields searchable, with more than 100 custom filters to allow users to narrow down listings with incredible accuracy.
Search engine optimization
The best websites in the world are useless if no one can find them. Our SEO expertise allows us to ensure customer sites are highly visible in their markets and rank at the top of every search. Valley MLS is particularly fond of the free enhancements and updates we release to ensure websites rank high. Like many of our customers, Valley MLS relies on Constellation1 for all their SEO needs, freeing up internal resources to focus on other things.
Powerful lead generation
For MLSs, it's all about leads. Thanks to a highly ranked site and unbeatable property search, Valley MLS now generates better, higher-quality leads for free, as opposed to paying for them from other sources. Because Valley MLS leads are already qualified, agents are likelier to seal the deal. Before we partnered with Valley MLS, they couldn't track leads at all. Now they know exactly how many leads they are generating.
Collaborative approach
When the Valley MLS team was dreaming about their ideal website, it included ads to allow them to generate non-dues revenue. They were already working with a trusted vendor, Cordless Media, so we worked with them to design pages with ads that wouldn't interrupt the visitor experience. We are always willing to collaborate with other partners, especially when it means ensuring customer satisfaction and success.
Strong customer service
Rollouts are understandably nerve-wracking. When ValleyMLS.com went live, their dream became a reality. "Constellation1 delivered everything on time and did a great job, with no surprises. They called regularly to make sure everything was working the way we wanted. I can't think of anything negative to speak of," confirms Owen. Our customers can rest assured knowing they have a dedicated contact making sure everything runs smoothly, allowing them to focus on running their real estate business instead of stressing about their website.
Future-oriented
Valley MLS now has an enviably ranked website featuring the best listings in northern Alabama. Their success has attracted the interest of six other associations that now work with Valley MLS to feature their listings, covering much of the state and major metropolitan areas like Birmingham and Montgomery. These partnerships have proven to be mutually beneficial for everyone involved and may very well lead to even more partnerships down the road.
"In my 39 years of IT experience, Constellation1 is one of the best vendor partners I've ever worked with. Constellation1 is always researching and embracing new technology, and for us that was really important."

Tammy Owen, Technology Director at Valley MLS
We are also dedicated to research and development and constantly improving our solutions for our customers—and we deliver. Tammy Owen puts it this way: "In my 39 years of IT experience, Constellation1 is one of the best vendor partners I've ever worked with." She continued, "Constellation1 is always researching and embracing new technology, and for us that was really important."
Learn how we helped Valley MLS improve their business by powering their MLS.