Social media marketing doesn't have to be another tedious task
you have to worry about
. Learn how social publishing makes marketing a breeze and takes the stress out of social.

Agents essentially have two jobs: their primary jobs helping buyers and sellers with their real estate transactions, and secondary jobs making sure their social media feeds are frequently updated. Why, you ask? Because social media is a major source of real estate leads. Doing a great job helping homebuyers is hard enough. The second job just adds more work to the pile. Not only that, but unless agents are obsessed with data, they probably don't notice or keep track of key engagement metrics, like what kind of content gets the most likes or what time of day posts draw the most attention. We know all of this is a lot to keep track of, which is why social media scheduling and publishing tools can be a game-changer for real estate teams.
Plugging your social media into a scheduling tool may sound scary at first, but the benefits for both agents and brokerages alike are immediate. With proper scheduling, posts go live at the perfect time to get seen by the highest number of people and draw the maximum number of leads. Here are just four ways social media scheduling can benefit your team.
1. Scheduling
takes the stress
out of
social media management
If you used to worry about making sure you got a post up on your feed every day, worry no longer! Social media schedulers can post all the relevant content you like as often as you want, including your team's very own listings, relevant local and industry articles, photos, virtual tours and open houses, and more. Plus, once you've chosen all your settings, the process is entirely automated. You get to sit back, relax, and enjoy the likes… and the leads!

2. Ready-made posts
allow
agents
to focus on
their
actual job
s
Let's face it, most real estate agents aren't trained social media marketers. If they don't have to worry about what's going up on their social media, it immediately frees up hours of their time every week—and those hours can add up quickly. With all that extra time, your team can focus on winning more listings and becoming premier agents in your market, not writing Instagram or Facebook posts.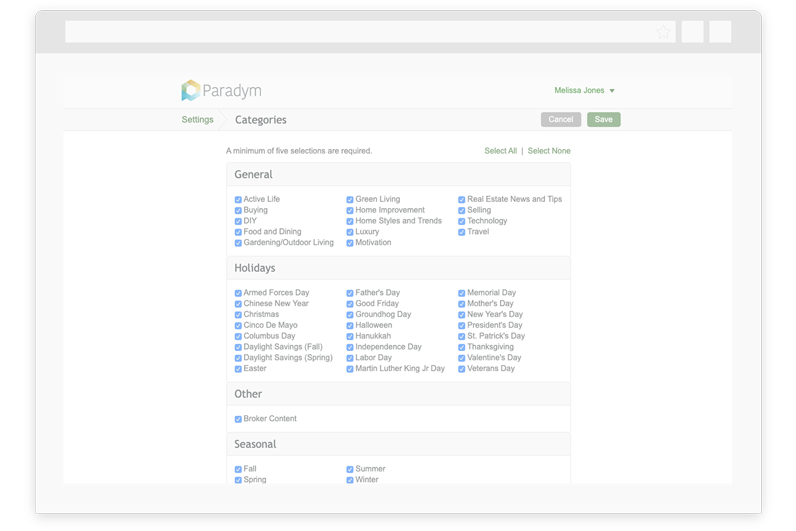 Choose what kind of content you want to post, and let Reach Social do the rest
3. The best tools
keep you
several posts ahead of
the
competition
With the right social publishing tools, your entire team's social media schedule can be filled up weeks in advance—while relevant, dynamic content like listings and tours post as they create them. If you're always a step ahead with online lead gen, chances are your lead game offline will be a step ahead, too.
4. Social media marketing is
the most effective
way to expand your sphere of influence in your community
An agent's most effective marketing tool is their sphere of influence, or their network of family, friends, former clients, and acquaintances. Chances are they all follow each other on social media. Agents that frequently share relevant content, new listings, and engaging posts with their followers are leveraging their spheres effectively. A clear, cohesive, and consistent social media strategy, backed by a social scheduling tool, helps grow and expand the number of people they reach, which helps grow their business and your brokerage's revenue.
Scheduling your social media can feel a little uncomfortable at first. Before, you worried about finding the time. After, you might worry that posts will lack your personal touch. Rest assured, our social publishing tool, Reach Social, was developed and tested by real people who understand your concerns and work to make content that even the most discerning readers connect with on a personal level.
There's no one way to build a strong social media presence, but taking the stress out of content creation and scheduling is an ideal place to start.


Are you
ready to start automating your social media marketing
with Paradym Reach Social?