Cloud technology is one of the most important trends of the century. By 2025, 85% of companies will be operating on a cloud-first principle, according to a Gartner report cited by Business Insider. Is your brokerage still relying on local servers?
The entire real estate transaction workflow, from lead to close and commission disbursement, can be completed seamlessly in the cloud, all while improving your brokerage's bottom line. To learn more about the cloud and why your brokerage should start using it ASAP, read on.
What is the cloud?
You may still be confused about the cloud. After all, even its name sounds nebulous, foggy, and far away.
The cloud refers to computer resources that live on the internet, rather than on your own computer or a server in your office. Instead of opening a software application that you installed on your hard drive, you log in to a website that works the same way but runs on a server somewhere else.
But where are these servers? More than half of the world's cloud infrastructure is controlled by just four companies, which have data centers (where their servers are located) all over the globe. Check out these data center maps from Microsoft and AWS. Most of the services you use every day, from your email to social media, are powered by these or similar data centers. Tech companies can also operate their own data centers for their customers or contract with secure third-party data centers to manage servers remotely on their behalf.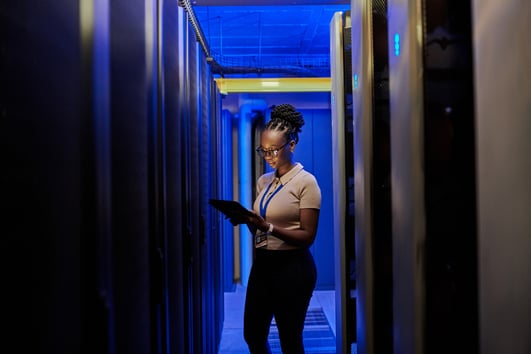 Many brokerages are underutilizing the cloud
Many brokerages aren't leveraging the cloud to its fullest potential, particularly small- to medium-sized and regional brokerages.
In many cases, some or all of their business relies on legacy systems running on computers or servers in their offices or buildings. This creates several issues because local servers:
Take up valuable leasable space you have to pay for

Are costly to maintain

Paralyze your business when they fail

Don't work during power outages

Require on-site IT experts to troubleshoot

And more
These legacy systems are costing your brokerage money and putting your business continuity at risk.
Why the cloud is the future of real estate
The cloud offers distinct advantages over local infrastructure:
Resilience and innovation
Blockchain, the metaverse, and every other new technology you hear about are all based in the cloud. Future technological breakthroughs will be made in the cloud, so adopting cloud technology now will make your business more receptive to future innovation and more resilient in the face of change.
Availability
With the cloud, your systems will rarely (if ever) go offline, you can work from anywhere with the internet, even a public computer or your phone—all with the same functionality and security as your office. When you're working in the cloud, you're always open—anytime, anywhere.
Scalability
The cloud is easily scalable, meaning you can increase or decrease your capacity, storage, memory, and more as you need it, without having to scale physical servers or office space.

Security
Cloud providers use incredibly robust protocols to ensure the highest levels of security for your data and processes. They also monitor security 24/7 for signs of breaches that might otherwise go unnoticed.
Savings
65% of respondents saw up to 10% cost savings after migrating to the cloud, according to the Cloud Continuum Survey conducted by consulting firm Accenture. After switching, companies can derive even more savings from higher productivity, higher customer service, and lower turnover.
Constellation1's cloud-based solutions
The cloud is the way of the future and is key to remaining competitive.
We know change is hard, but the companies moving to the cloud for good are the ones seeing the biggest benefits.
All Constellation1 solutions are cloud-based, providing the competitive edge your brokerage needs. Our solutions are hosted on the best platforms for each product, including Microsoft Azure, AWS, and a private data center in Irvine, California. But no matter where our customers' solutions are hosted, the user experience is exactly the same: a seamless, web-based application with superior uptime, scalability, and resiliency.
Are you ready to see how the cloud can boost your business? Get in touch with our expert team today.