Search engine optimization (SEO) can feel like a bit of a mystery, and something that's hard to get a handle on. But your website needs to be fully search engine optimized to ensure your brokerage's success, both in 2022 and beyond. SEO is just as important as beautiful design and visuals. It's the brains powering your website allowing consumers to find you.
There isn't just one thing you can do to rank higher online when it comes to SEO. Success rests on an accumulation of many ongoing and ever-evolving tasks. These can feel impossible to manage. However, with the right partner, you can leave the heavy SEO lifting to an expert and get back to focusing on what you do best—real estate.
To teach you more about SEO and what makes our award-winning websites stand out from the competition, I'm going to answer some of your most commonly asked SEO questions below.
Table of Contents:
What is SEO?
Search engine optimization, or SEO, is the process of optimizing your site for search engines, like Google and Bing. Search engines use complex (and closely guarded) algorithms to determine whether a site is useful to consumers. SEO includes all the steps you can take to help search engines identify your website and show it as high up in the search results as possible (ideally, somewhere on the first page).
Why is SEO important for a real estate website?
SEO is what drives consumers to your website, turning it into a lead generator and keeping your funnel full.
Search engines use crawlers to identify websites on the internet and updated website content. Once crawlers find it, they add it to their index, a huge database of all the URLs they deem worthy of providing in search results. The first key to SEO is getting crawlers to find your site, and the second key is to convince them that your site is trustworthy and useful, so they keep sending searchers there.
SEO best practices are constantly evolving, and it's next to impossible to keep up with all of them without full-time help. Is SEO another time-consuming task your team can add to its list? Most brokers say no, in our experience. This is why working with the right partner is so important.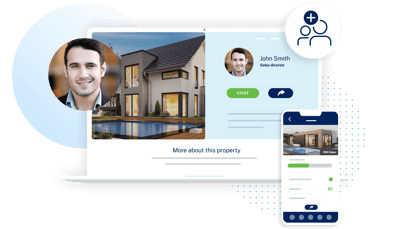 What goes into creating an optimized website?
Let's be honest: there's really nothing sexy about SEO. It involves a unique skill set that requires tracking hundreds of tiny details that can add up to big rewards. Think of your website like a house: the structure and system that help with SEO are the foundation, the strong bones behind a beautiful website. SEO brings your website vision to life and turns it into a lead-generation machine for real ROI.
SEO is also about trust: the search engine needs to trust your website provides searchers looking for information about real estate where you work. What's more, consumer search habits are changing. They're asking questions, not typing keywords. We do a lot of work behind the scenes, even on pages your visitors might rarely see, to build trust with crawlers so that they show your site first.
At a bare minimum, your site needs to cover certain basics. These might seem simple, but they're crucial to get absolutely right. Let's look at a few of those now:
Basic 1: Design and Code
The first step to creating an optimized website starts at the most basic level: the design (your site's information architecture, structure, and page hierarchy) and the actual computer code used to make it. Websites must be designed and coded with SEO in mind and every component tailored to ensure optimal search engine performance. These include HTML and CSS markups, canonical text, factors affecting page weight and load time, crawl paths, linking structures, and more.
Basic 2: Customization
The second step to creating an optimized website is customization.
The best homebuilders in the world can make a house for you on the finest foundation, but your house won't start to feel like a home until you add your own finishing's and flavor. That's where customization comes in, and it applies to your website, too.
Search engine algorithms use a lot of metrics to determine whether your website is valuable and useful. One metric for measuring the quality of your website is uniqueness, or the degree to which the content on your site resembles that on other websites and provides relevant information visitors can't find elsewhere. This is where customization comes in. If you're trying to sell houses in Houston, but your website makes zero mentions of the city and its amenities, or copies information word-for-word from the Chamber of Commerce website, then Houston, we have a problem.
Basic 3: Content
The third step to creating an optimized website is content.
Quality content is essential to higher search rankings because it demonstrates that your site is useful. In theory, the more recent and relevant (unique) content you have, the better. Content that changes frequently shows that you're making regular updates, so the search engine believes your website is more up to date and therefore more useful. This can boost your ranking.
These are just the three most basic SEO considerations you need to take care of. Do you even have time to tackle those?
The beauty and brains behind Constellation Websites
As you can see, the SEO devil is in the details. The real beauty of Consetellation1 Websites is actually the brains behind them: too. We handle all these SEO basics and more for you, and our attention to detail is what sets us apart.
Let's take a closer look at Consetllation1's approach to SEO and how it differentiates our websites from the competition.
All Your SEO Bases Covered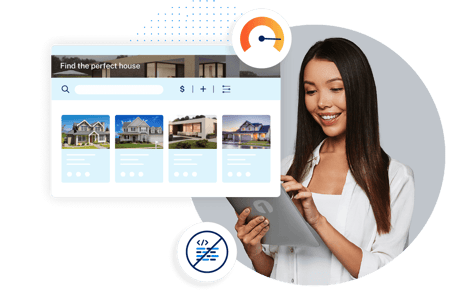 Optimized Structure
Constellation1 Websites are designed and coded with SEO in mind by our expert team. Everything, down to the smallest details, adheres to best practices for HTML markup, tagging, and more. Best of all, everything is also optimized specifically for real estate seo.
Take an Open House page on your website as an example. We use precise HTML tags on the page and structure it perfectly so crawlers can find it, index it, and display it prominently. This drives traffic to your site, which starts a snowball effect of better traffic and rankings.
When crawlers come looking for your website, they're searching for specific things. We know what these are, and we've created unique structures and tools to ensure crawlers can quickly index your site.
Customization Tools
Constellation1 Websites leverage a proprietary content management system that allows you to customize every single detail of your webpage without impacting the meticulously crafted structure we've built.
Everything is laid out in simple, intuitive templates, so you know where all your content needs to go. You can write it and update it yourself, on the fly, for better results. We also provide some default content for you, like information on community pages, so key parts of your site never look blank.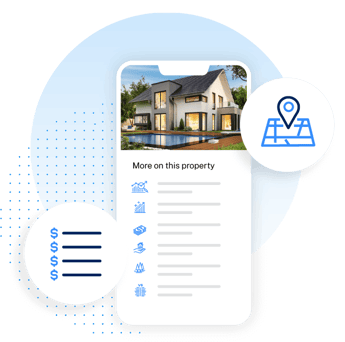 Community pages with demographic information show search engines the content is hyper-local and relevant to your readers. This information might include stats like population, climate and weather data, school data, crime data, and more. This content can have dynamic elements that update monthly automatically. Your own team can take it a step further and help you rank even higher by making the content your own (hot tip: unique, content-rich content is SEO gold!).
In some cases, we provide multiple fields, so you can enter multiple versions of the same content. We then rotate that content automatically, so crawlers read it as new (read: more useful), which builds trust with the search engines. This can help you rank higher, especially with a partner like Constellation1 supporting your constant improvement through regular audits.
SEO Strategy
"Rank higher" is a great goal for your website, but without a strategy in place, it'll be difficult to get there. You also might have unwittingly been doing things that actually hurt your site ranking, like a dubious backlinking strategy. It can be challenging to even develop a strategy when you don't know what you're doing, because there's truly so much to cover. While chasing the latest trends and tips, you might lose the foundation or skip the basics, and your strategy won't work.
Moreover, what worked for you ten years ago, and even ten months ago, might not work as well today. Keeping up can be a full-time job.
We leverage our SEO expertise to create a winning strategy, then partner with you to put it into action. We teach you how to avoid bad practices, while leveraging the advantages of social media, fresh content, and more for the best results possible. In this sense, we use a two-prong SEO approach: we not only provide the tools and technical expertise, but we teach you how to leverage it to its fullest potential. We test, we analyze, and we figure out what does and doesn't work. Not only that, we track your analytics monthly, so we can see the effects of any algorithm or website changes and use data to drive your strategy further. We aren't just a website provider, we're an SEO partner.
Continuous Improvement
We keep up with the latest SEO best practices, so you don't have to, and make improvements accordingly.
We invest heavily in regular SEO audits from our expert, unbiased partners, who examine the code powering our websites against the latest algorithm trends. We're continuously making enhancements and updates on the backend based on their feedback. That way, you don't have to spend time tracking Google's core updates, which can have a huge impact on how you rank.
Since everything is hosted in a private cloud, we automatically push updates live. You never even have to think about it and can focus on what you do best instead.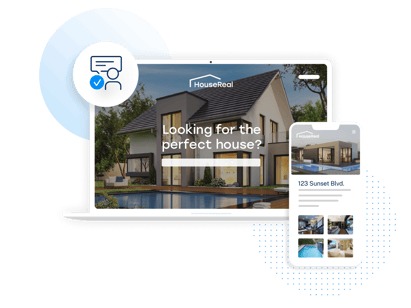 How can you achieve a better SEO ranking?
There isn't just one thing your brokerage can do to rank better on search engines. As you can see from this article, a high ranking is an accumulation of ongoing tasks and tiny details that can really add up. While every website and market is different, we've compiled three quick tips for how you can achieve a better SEO ranking.
Update and improve your existing content
If your website structure is already solid and your content is properly tagged (headings, meta descriptions, etc.), you can still majorly improve your ranking by updating your pages and adding content crawlers are looking for. Think popular real estate keywords, demographic information, neighborhood information, and "community marketing" (what you'd want to know if you were looking for a home in your area…).
Update and improve your linking structure
The worst thing you can have on your website is a dead end—a page a visitor gets to where there's nowhere to go but leave. Search engines hate these dead-end pages, also called orphan pages, because they create a bad user experience and increase the chances your visitor will just go somewhere else. Search engines are in the business of meeting their customers' demands for information: if your website doesn't do that, or makes information more difficult for crawlers to find, search engines won't trust your site or send users there.
Check your website for dead-end pages (you can use a tool like User Flow reports from Google Analytics). If you find any, add outbound links, social media widgets, or link back to other high-value pages on your website.
Ask us for a consultation
Not sure what the best next step is for a higher website ranking? We can help with that!
Read about how one company's organic web traffic skyrocketed by over 2,000% after switching to Consetllation1 Websites
One of our customers, Vylla Home, increased its organic website traffic by more than 2,000% after switching to a Constellation1 website. This was thanks to a concerted effort by both sides: we provided the tools, and Vylla ran with them. We always make sure to go a step further, and it shows in our customers' results.
Learn more about Constellation1 Websites
Our websites are a winning combination of beauty and brains. To learn even more about how a Constellation1 website could take your brokerage to the next level, get in touch with us today.
Steve Thomson is Vice President of Software Development at Constellation1. He was recently recognized as a 2021 Newsmaker by RISMedia.