Busy brokers and agents have a tough challenge when it comes to social media: today's average homebuyer spends hours on social each day, but the typical agent (and seller) tend to be less comfortable with social media and less confident in what they post.
The solution: technology!
Digital marketing tools for real estate
Fortunately, there are tools real estate professionals can use to take the task of social media marketing off their plates like Paradym by Constellation1, our digital marketing solution.
Social publishing pays dividends, and with the right solution, your team can reap the benefits with minimal effort. And now, thanks to changes to the Instagram API and new enhancements to our Reach Social tool, our users can take advantage of automated Instagram posting, which was previously unavailable due to Instagram's platform restrictions. Read on to learn more about this new enhancement and how you can use it to help your business grow.
Learn how top performers at Carpenter Realtors
close
$20+ million per year

with help from
Paradym by Constellation1



Automated Instagram posting
According to DataReportal, there are nearly 160 million active Instagram users in North America. And according to Business.com, millennials, which constitute the largest group of first-time homebuyers today (read: major source of leads!) are using Instagram more than any other platform.
Until recently, Instagram blocked third-party tools like Paradym by Constellation1 from being able to post automatically, which affected the user experience. Users had to manually go to Instagram every time they wanted to post, adding friction to the posting process and making it more difficult.
Now, users can post automatically to Instagram without leaving Paradym platform. Let's show you how!
These instructions and tips are for existing Paradym by Constellation1 customers. Not using our digital marketing suite yet?
Learn how to grow your real estate business
using the power of social media
Step-by-step guide to automated Instagram posting with Paradym by Constellation1
After taking a few simple steps, you'll be able to start automating your Instagram posts and capturing more organic real estate leads from this incredible social media platform.
Converting your Instagram account from a Personal to a Business Account
Meta, Facebook and Instagram's parent company, requires you to have a Professional account in order to post using third-party solutions like Paradym by Constellation1. Thankfully, it's really easy to switch your personal Instagram account to a professional one.
From your mobile device:
Log in to your Instagram account.



Tap your account avatar/profile image button.


In the top-right corner of the display, tap the hamburger menu ≡ > Settings.



Tap Account > Switch to professional account.

Note: For some accounts, the Switch to Professional Account option will be listed directly under Settings.


Tap Continue to begin the process. You'll need to select several options to tell Instagram that you are a Business, what Category your business is in, and provide professional Contact Information.



Follow the prompts until the end. If you run into any questions about this part of the process, visit Instagram's Help Center, as it will have the most updated information.



Once you've completed all the steps, Instagram will tell you that your professional account is ready. Tap Done to continue,

If you prefer to use your computer to complete this process, the steps are nearly identical, but the user interface elements will appear elsewhere on your screen.
Linking your Instagram and Facebook accounts
To be able to post to your professional Instagram account from Paradym by Constellation1, you must also link it with your Facebook business page, which most users have already set up.
This process is also very easy:
Log in to Facebook on a computer and select your business's profile page (if it isn't the default page) by clicking the account avatar/profile image button in the top-right corner, clicking See all profiles, and then clicking the name of the business page you want to link.



Click the account avatar/profile image in the top-right corner again (this time for your business page) and click Settings & privacy > Settings.




Next, click Linked Accounts and then click the blue Connect account.



A modal will appear explaining what you're about to do. Click the blue Connect account button.




Click Connect.



Move the toggle according to whether you want to allow access to Instagram messages in Inbox, then click Confirm.



Enter your Instagram login credentials, then click Log in.



You can opt to save your login info for next time (click Save Info) or not (click Not Now).



You'll see a message that your Instagram account has been successfully connected.



Click Done, and that's it!
Linking your Instagram account with Paradym by Constellation1
From the Settings screen of your Paradym account:
Click Connections in the left navigation or Change in the Social Connections section.



In the row for Instagram, click the plus icon.



Depending on which Facebook and/or Instagram profiles are shown and whether you need to switch between accounts, you may need to click Continue a couple of times to give Paradym the right to post on your behalf. Just follow the prompts on the screen.



When prompted which Instagram User you would like to connect, click the plus icon next to the name of your professional Instagram account.



Next, you'll get to select your preferred settings for what you want to share. You can select what will be shared for future tours (the cover photo, the preview video, or both), how posts will be scheduled (using Smart Schedule, Instant Posting, or manual posting), whether to include Smart Comments, whether to post any active but unposted tours, and how often to repost.



Once you've made your selection, click Save.
What's included in your automated Instagram posts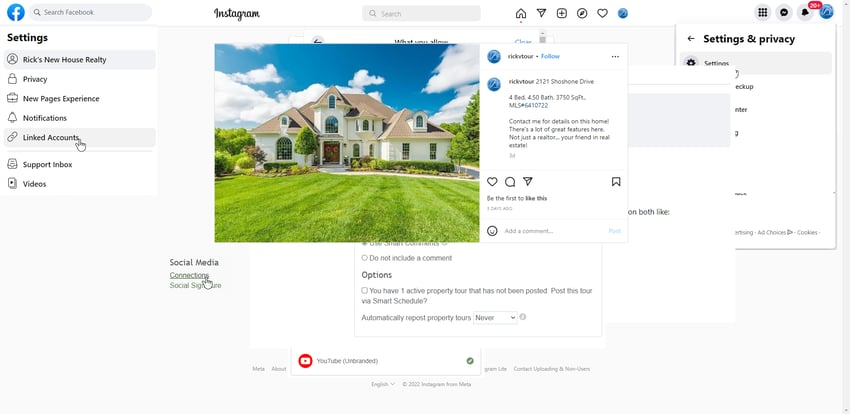 Paradym by Constellation1 uses your active listings and MLS information to automatically create engaging posts with an image, property information, and a call to action. As this information is included in your listing, your Instagram posts will include:
The cover photo, preview video, or both (videos will auto-play)
Property address
of bedrooms and bathrooms
Square footage
MLS no.
Social media signature
Smart comment (if enabled in Settings)
When Smart Schedule is enabled, your posts will automatically go live during normal working hours when engagement is highest (from 8 am to 8 pm ET) and be spaced at least 1 hour apart.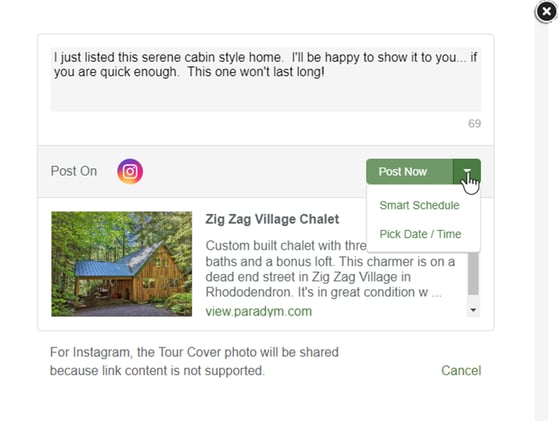 Have questions? We're here to help!
If you need any help with this process, feel free to reach out. Existing customers can write to paradym@constellation1.com or call +1 800-503-5163, option 2, then option 7. Not a customer yet? Click the button below to get started!
Put your social media on autopilot and get more leads without more work
Paradym by Constellation1 is your solution for taking your online presence to the next level. And now, you can get even more out of Instagram by automating your posts, getting more eyes on your listings, and driving more traffic to your website.
Try Paradym by Constellation1 today
Paradym by Constellation1 makes you feel like you have the personal support of a digital marketing team 24/7. Our customers love it, and if you haven't tried it yet, we'd love to show you what it can do.
Request a callback below and one of our digital marketing experts will be in touch with you shortly.