Agents are already busy. Adding social media marketing to their to-do lists doesn't mean it'll get done. Learn how social publishing took the Carpenter team's online game to the next level.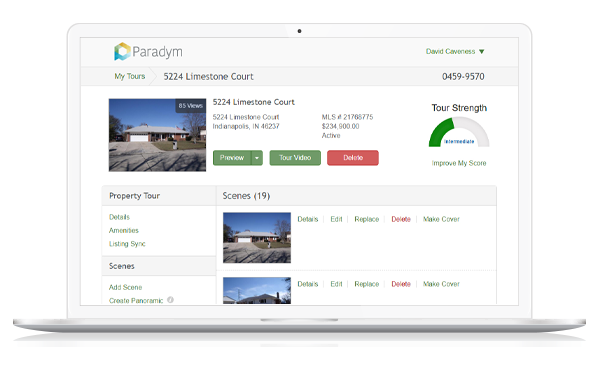 "The set-and-forget aspect of Paradym was really important to us, because without it, the vast majority of our agents wouldn't use it."
— David Caveness, President of Carpenter Realtors
Social media marketing: an underutilized asset
Social media marketing is the most powerful tool your team probably isn't harnessing to its fullest potential. How do we know? Because according to the National Association of Realtors, 65% of agents' new business comes from within their spheres of influence, i.e., the people in their personal and professional networks. Where do agents interact with their spheres the most? On social media. But the NAR also found that only 10% of agents market to their spheres effectively.
Why is that? In truth, agents are busy, and adding yet another responsibility to their already full plates means that many of them simply won't find the time. The result is fewer leads, fewer listings, and lost revenue for your brokerage. The solution? Automation.
Advantages of social media automation
David Caveness, President of Carpenter Realtors, identified this dilemma years ago. A Paradym by Constellation1 customer for well over a decade, Carpenter Realtors is a top LeadingRE-affiliated brokerage in Indiana that opened its doors more than 50 years ago. Today, it has 33 offices and more than 600 agents statewide and is the go-to team in central and southern Indiana for buying and selling homes.
David realized early on that unless agents could simply set everything up and forget about it, it wasn't going to happen. It was the case for virtual tours, the first Paradym solution Carpenter integrated 15 years ago, and David knew it would be the case for social media marketing, too. As David said, "The set-and-forget aspect of Paradym was really important to us, because without it, the vast majority of our agents wouldn't use it." When Carpenter started looking into social publishing tools for real estate, they wound up going with Reach Social, Paradym's fully automated social media marketing tool that helps agents stay active on social networks without adding any new tasks to their already long to-do lists.
Some individual Carpenter agents can now sell more than $20 million per year, on their own, in a market where the average listing price is $200,000. That means they're closing sales on average every two business days (the national average is one per month). David attributes this success directly to Paradym by Constellation1. "Without tools like Reach Social, there's no way that'd be possible," he said.
A partnership for lasting success
Carpenter likes change, just not changing vendors. Carpenter's relationship with Paradym by Constellation1 is a true partnership grounded in dedication and customer service that allows them to better serve their own internal customers: their agents. Now that agents' day-to-day online marketing tasks are completely automated, they can spend more time doing what they do best: winning leads and closing sales. The result: less stress, more productivity, and higher agent retention—all of which are great for Carpenter's bottom line.


Learn more about how we helped Carpenter Realtors automate their social media marketing and present a consistent brand across 15 different counties in Indiana.