Summer temperatures are soaring, and the real estate market shows few signs of cooling down. At Constellation1, we don't take summer vacation: we are always working to deliver the very best enhancements and updates to our customers.
In this Product Release Series post, we'll cover the top front and back office releases for July, including improvements to Constellation1 Websites, CRM, and Documents. These updates were released to production on July 20.
New real estate lead touchpoint: recommended properties emails
Your brokerage's leads, whether they are buying or selling a home, crave meaningful contact with your agents. We are excited to announce the release of a powerful new touchpoint for your buyer leads and clients: recommended properties emails. These emails are branded to your company or even an individual agent and are a valuable source of targeted, useful information to keep leads engaged with you and your website.
Once a lead creates an account and saves a property, they will automatically be opted in to and begin receiving weekly branded recommended properties emails. Recommendations are currently tied to the most recently saved property, but in phase 2, they will also account for saved searches and recently viewed properties.
Recommended properties are based on:
Similar property types
Pre-determined radius from the saved property
Price range 10% higher or lower than the saved price
Plus or minus 1 bedroom
Plus or minus 1 bathroom
Recommended properties emails will show a maximum of 10 properties to provide relevant listings without overwhelming or bombarding prospective homebuyers. Brokerage-owned listings are displayed first to encourage double-sided deals, after which properties are sorted by the most recent listing date.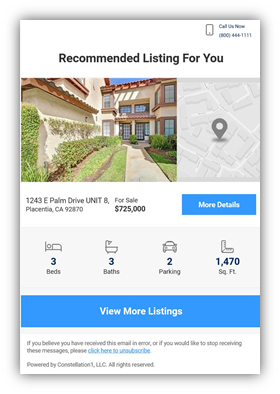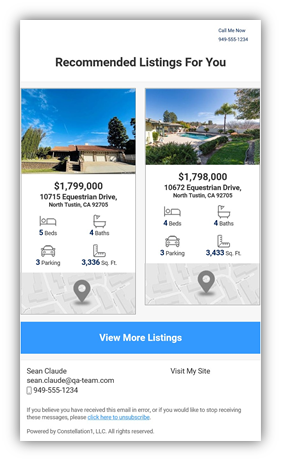 Example emails
Please note this new feature will not be enabled by default. Our existing Websites customers need to contact their account representative to request this new feature. If you aren't yet a Constellation1 Websites customer, you can learn more about our award-winning real estate website builder here.
Stunning new agent website templates
We have just created three brand-new eye-catching designs for agent websites. These new designs are fully responsive and provide a new look and feel for your agents' websites that you can customize with your own brokerage branding, photos, and text. Our template library now includes six customizable website templates and modular drag-and-drop elements to make your site functional as well as beautiful.



These new designs won't be added to your available templates automatically. Existing Websites customers can contact their account representatives to request these new designs.
New contact field in Constellation1 CRM
Our customers have spoken, and we listened! We just added a new field to Contact Details in Constellation1 CRM to include the contact's title. Agents can now select a contact's title from a pre-set list in a dropdown menu.
Titles include: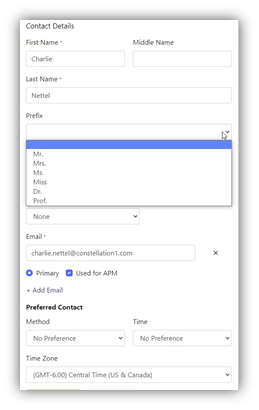 Mr.
Mrs.
Ms.
Miss
Dr.
Prof.
On the Contact Details page, go to the "Contact Details" tile and click edit. Click the dropdown menu under Prefix and select the appropriate title for that contact.
An even better document management system
We are continuously working to improve the usability of our solutions and provide a better user experience. This month, we're pleased to announce improvements to Constellation1 Documents.
New system and error messages
Users are easily frustrated when they're not sure what the program is doing. To help alleviate user confusion, we've added a "Please Wait" indicator to various modals to alert them that the system is processing or working, so they know to wait for the system to finish. These include the Print, Add Property, and Document Upload modals.
We have also changed the location of the missing required field error message. Instead of appearing at the top of the modal, any error messages will now display next to the missing item, so users know exactly which field they need to fill in to move on to the next step.
Removing documents from queues
We have updated the printing modal to allow you to easily remove documents from the printing, download, or fax queues.
When multiple documents have been selected to be printed, downloaded, or faxed, you can now remove unwanted documents directly without having to close the modal, deselect the documents, then open the modal again, saving you time and headaches when you realize you no longer need to print or download a particular document.
New estimated closing date calendar
For improved usability and fewer errors when entering important date information, we have added an Estimated Closing Date calendar. Now you can click the date box and select a date from a pop-up calendar when entering the estimated closing date, reducing the likelihood of error.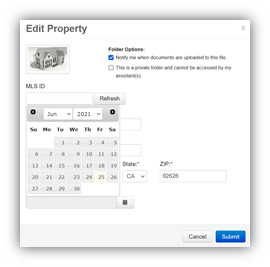 Deleting primary contacts
Every transaction needs a primary contact. After deleting the primary contact from a transaction, you will now be asked to select a new one. A modal will appear to prompt you to select another person associated with the transaction as the new primary contact. If you do not select one, the system will default to the second contact.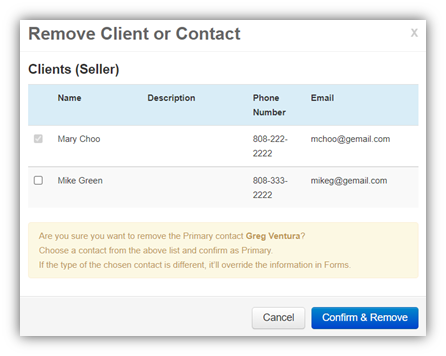 Continuous updates to serve you better
At Constellation1, we are always working to ensure our solutions meet the highest standards of quality. Check back next month for our honorable mentions for August.
If you have any questions about this release or any of our product features, get in touch with us today.
If you missed our last product release post, you can read it here.