Constellation1 is excited to announce our most recent August product release, which was launched to Production on August 18. This release is chock full of exciting updates, including a new look and improved usability for Constellation1 CRM, more powerful property search features, and an exciting new Market Trends report. Read on to learn about our August honorable mentions and how they work.
A revamped CRM Manage Leads page: updated look and improved usability
As we mentioned in last month's honorable mentions, we have improved the Manage Leads page for lead admins, and this improvement is now live! The page has a new look that puts important information at your fingertips so you can review and manage leads more effectively and track their progress.
These new features include:
New Sort By filter to sort leads more easily
New Contact Info field for easier reading
Quick view of all leads (accepted vs. not accepted)
For our clients using our mobile app, a new column showing follow-up progress for new leads

New Manage Leads page
The new Follow-Up column shows how each lead is progressing through the lead follow-up workflow. This gives you a better view and insights into what actions agents are taking to follow up with leads.
This new Manage Leads page has been rolled out to all companies, and those who are using our mobile CRM app will also see the Follow-Up column. If you're not using our mobile CRM app yet, reach out to your account manager to have this lead management tool enabled for your company and agents.
Listing landing pages now include temporarily off-market listings for website customers
In response to COVID-19, some MLSs are including Temp Off Market listings in their data feeds. For MLSs that support and provide this status, we will display these listings on the SEO listing landing page so they are included in search engine indexes. This will boost the SEO value of your website and provide a better service to your agents and customers. If your MLSs do not provide temporarily off-market listings in their data feeds, this update will not affect you.
This update is being made to the following listing types:
Residential
Commercial
Rental
Lots
Temporarily off-market listings will be automatically included with active listings on the listing landing pages and in the property search. No action is needed on your part.
Saved property searches: polygon searches will now show polygon name
We're making polygon searches more intuitive so your clients can identify their searches more easily. Polygon searches allow users to draw a boundary to define a geographic search area. In the client's list of saved searches, polygon searches will now show the name of the polygon they drew.
Previously, the name would display the latitude and longitude coordinates. Now, the client's name for the polygon will show in the Location column on the client's Saved Searches dashboard.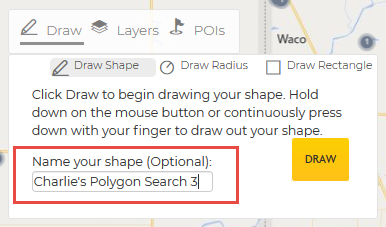 Naming a polygon

New search names
All Constellation1 clients using Search Motif 3 will see this update automatically.
Market Trends report
Constellation1 is thrilled to present a brand-new Market Trends report that you can feature on your website.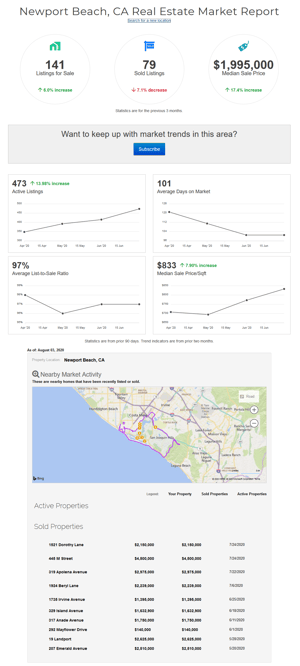 The new Market Trends report includes:
Up-to-date market data
Historical market data going back 2 years
Responsive design with dynamic data
Lead capture ability: prospects can subscribe to a report
Report auto-emailed every 30, 60 or 90 days
Landing page style URL to share unique reports
Making a Market Trends report available on your website is another powerful tool to help your leads stay on top of the latest market conditions and trends. This report provides top-quality information and will be a valuable resource to drive traffic and generate buyer and seller leads.
You can preview the market trends report on our showcase website here.
Please reach out to your account manager to enable this feature on your website.
There you have it, our honorable mentions for August! Check back next month for the September product release honorable mentions. If you missed last month's honorable mentions, you can read them here.
Interested in any of the products mentioned here or other Constellation1 solutions
for your real estate business?