Is your brokerage ignoring these extremely valuable lead sources?
Cold calling
In our era of social media, text messages, virtual meetings, and artificial intelligence, we can easily forget just how powerful a warm, personal, timely phone call can be.
There are lots of services that offer to do your cold calling for you, but would your brokerage work with a company that farmed out their calling to get in touch with you?
The rule of thumb for successful cold calls is to make them short, personal, and positive. Market Leader has a great post about cold calling best practices with 8 tips the most successful cold callers use, and in our experience, it's a great way for brokers to reach new potential customers, especially those that might not be very computer savvy.
Once you've made contact, make sure you have a real estate brokerage CRM that's as versatile as you need it to be to nurture your new buyer and seller leads.
Direct mail, including flyers or postcards
We don't know about you, but we love getting mail, and we don't just mean Amazon packages!
A wedding invitation, a birthday card, a thank you note… all these special deliveries give us a great feeling when we open our mailboxes. Taking the time to write something and send it really shows that you care.
Your team can take advantage of this same warm and fuzzy feeling by sending mail directly to households near where you've successfully closed deals. Introduce yourselves, share what a great deal you helped your clients get, and offer to help them if they're considering a move in the future. A nice picture and headshot are great touches, too.
There are even services like Top Producer that use AI to help you target whom to mail, and they can even send handwritten notes to those who are statistically most likely to sell in the next year.
Blog posts
We've written previous posts about why real estate brokers and agents should blog, and those benefits still apply. Fresh, relevant blog articles on your brokerage website go a long way in bringing organic traffic and visitors to your listings, which means those eyes aren't on a site like Zillow.
But have you ever thought about writing content for other blogs?
No matter where your brokerage does business, from the densely populated and touristy neighborhoods of New York City to the wide-open wilderness of Alaska and beyond, there are likely writers who would be interested in sharing your real estate expertise on their blogs. From tips and tricks on staging your home to get offers over asking to converting your home to a seasonal rental to the region's best amenities only locals know about, your team can share your valuable insights and get your brokerage's brand out in front of a wider audience.
To help keep your content fresh, Constellation1 Agent Websites have an automated blog feature to complement the posts your agents write from scratch.
Learn more about real estate websites and blogs
Instagram stories
Let's face facts: not every real estate agent will (or even wants to) become a social media superstar. And that's OK! Even without being social media famous, your social networks are still a great place to share what you do, what you know, and provide useful information your sphere can use.
Instagram Stories are unique for two reasons:
They give your team the opportunity to be spontaneous, unscripted, and simply talk about what they're doing, be that touring a property, getting a property ready to list, or enjoying a community event.
You can save stories to Highlights and allow your sphere to rewatch them whenever they want, or re-share them at your convenience.
This means Stories are great for evergreen content (like introducing yourself) and timely content (like a listing that will definitely sell quickly).
Here's an example from Serhant., one of the United States's most social-savvy, tech-forward brokerages: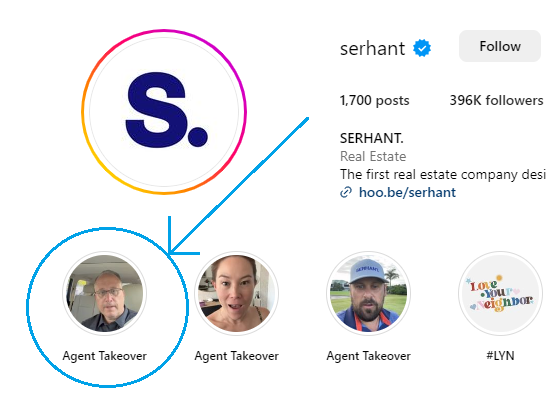 Not sure what your agents should post on Instagram?
Find some inspiration here!
Google My Business for real estate agents
Of all the search engines on the planet, Google is the most popular. Your website, blog, and social media presence are likely all meant to help you rank higher in Google's SERP and drive traffic to your businesses. But did you know there's another way to help you generate high-quality, low-cost leads on Google? That's Google My Business, and it is massively underutilized by real estate professionals.
So, what is Google My Business? Google My Business is a free business listing tool that lets you put your business on Google Maps and manage a Google Business Profile, which supports customer reviews, FAQs, pictures, posts, links to your website and social media, and more. Maybe most importantly, it shows your service area, so your brokerage and agents can capture more people searching for real estate agents where you work.
Google My Business makes your brokerage and your agents easier to find, easier to contact, and helps project your brand into more corners of the internet, which is always a good thing!
Door knocking
There aren't a lot of teams who proactively add door knocking to their prospecting strategy, but it can be remarkably effective for connecting with a segment that isn't active online. Best of all, your agents can add it organically to their routine when they go to install or remove a lawn sign, visit a listing with a buyer, or wrap up an open house.
Tips to make your door-knocking efforts pay off:
Be prepared with what you want to say

Offer them a flyer, business card, or goodie to remember you by

Share valuable information, like what you just sold the house down the street for, and ask if they are considering a move in the next 12 months

Keep conversations warm, short, and positive
And remember: practice, practice, practice! The best sales professionals are great conversationalists and know the power of preparation.
Repeat business
First-time homebuyers are a great source of business, especially millennials who are entering the market. But they only account for about a quarter of all buyers, according to NAR. In fact, NAR's annual Profile of Home Buyers and Sellers is full of interesting facts and statistics. One of them is particularly surprising:
89% of buyers would use their agent again
or recommend them to others, but only 12% used an agent
they had worked with in the past.
That's a really big difference. Why is the gap so wide? As J. Philip Faranda observed recently in Real Estate News, the reason is that agents "simply do not keep in touch with their clients."
If nearly 90% of your brokerage's past clients say they are willing to refer your team, but only close to 10% do, you're letting 80% of your repeat business fall through the cracks. The solution: devise a plan to keep in touch with your past clients. It's as easy as finding an excuse to reach out to them on a regular basis.
Here are a few ideas for staying in touch with past clients:
Give them a call or send them a text message on their birthday to wish them well
Send them a card celebrating the anniversary of their deal closing

Offer to refer your entire network

, from contractors and cleaners to babysitters and bookkeepers

Refer them

by sending your contacts to their businesses

Offer to sign them up for regular market trend reports, so they can keep an eye on their home value

Follow them on social media

and send your regards for big life events
The idea is to remind them that you're there by providing useful, relevant information, without spamming them.
Learn how to write an effective lead nurture campaign for your brokerage
Buyer and seller leads are gold for both real estate agents and their brokers. And there are plenty of leads to go around when you tap into every possible lead source.
To help your brokerage put your best foot forward, both online and in person, and nurture all of your new leads, get the best front office solutions in real estate from Constellation1. To learn more, request a callback from our experts today.