There's no doubt about it: it's been a wild couple of years for the real estate industry! We don't have a crystal ball, but we do have our finger on the pulse of the industry and a robust research and development team that keeps a close eye on trends. We've made some predictions about what brokers can expect both in 2023 and beyond.
From the unprecedented boom of the past couple of years to the abrupt slowdown brought on by higher interest rates in 2022, things have been a little unpredictable. The latest from the Federal Reserve is that interest rate hikes are likely to slow down by the end of the year, which is good news for the real estate industry going into 2023.
As the leading providers of proptech for brokerages around North America, we know technology is one of the best ways to withstand volatility and work smarter, no matter what the market is doing. Here are the 5 tech trends we think will have the biggest impact on the next year.
"Before Constellation1, our tech was just an expense with no revenue generation.
Now, we've got real ROI."
Learn more about how Vylla Home leverages
technology from Constellation1 to action its growth goals.
Increased automation of key real estate workflows
Everything about real estate is complex. The number of processes and tasks that brokers, admins, and agents need to keep track of is, frankly, staggering.
Real estate is also a highly regulated industry, so workflows and processes are generally set and don't change very often. This means they're highly automatable. Brokerages that haven't yet automated their processes are going to finally jump on the bandwagon in the coming year, while tech-savvy brokerages are going to find new, innovative ways to automate more things. One area where automation is already standard, e-signatures, is also the broker-provided technology that agents deemed the most valuable in the NAR 2022 Technology Survey. Customer relationship management is another area where a little automation can have a big impact.
Augmented reality for enhancing the sales process
The advent of virtual tours revolutionized home buying and selling, and these days, most homebuyers have seen at least one virtual tour. Augmented reality has the potential to enhance the virtual buying experience even further.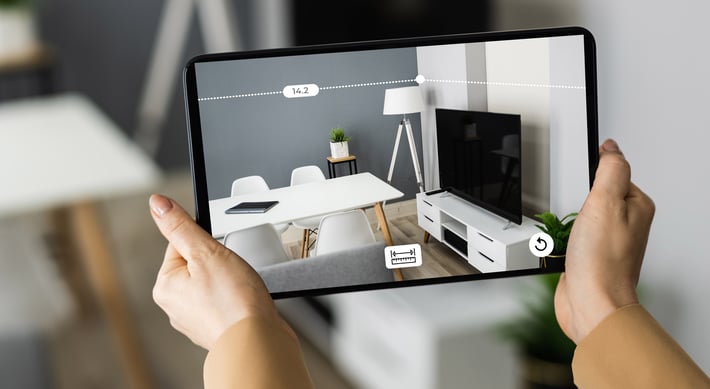 With augmented reality, agents could use their phones to not just take listing photos, but to scan and measure rooms and build more immersive virtual tours. Prospective buyers could use their phones to view a room and replace the current décor and furniture (or lack thereof) with their own, giving them a glimpse of what their new home might look like. It could also provide more accessible and user-friendly information about a listing without seeing it in person. As processing power and network speeds increase, these technologies will continue to mature.
Novel uses of artificial intelligence
As AI advances, it has the potential to revolutionize the real estate industry even further while also boosting efficiency and lowering costs. For example, we've discussed how brokers can use AI to turn their treasure troves of data into unparalleled, proprietary insights:
Better leads

More accurate CMAs

And more
And this is just one of the areas where artificial intelligence can be used. Others include:
Stronger, more targeted marketing

Estimating sales prices more accurately for smoother sales
The better AI gets, the more ways inventive proptech companies will find to expand its use in the industry.
Cloud infrastructure
The cloud is getting faster and more powerful every day. The advantages of switching to the cloud are fast eclipsing any potential drawbacks. The cloud makes it easier to onboard new technology and scale as your business grows while boosting security and saving money. It's a painless way to be more competitive while staying relevant in today's technological landscape.
Metaverse: next level virtual reality in real estate
We've talked about the metaverse and real estate before, and the topic of virtual real estate is becoming increasingly popular. Virtual assets are just one potential avenue for real estate in the metaverse. Others include:
Immersive property tours like nothing we've ever seen

Modelling to help with everything from building to interior design

Virtual industry conferences

And more



The metaverse is still in its infancy, and while it might not start affecting how we live and transact in 2023, big changes are likely not too far away.
Constellation1: your source for real estate technology (today and tomorrow)
At Constellation1, we pride ourselves on staying at the forefront of proptech. Technology is an increasingly important differentiator in the industry, and we'll continue to provide top-of-the-line solutions and expert advice to help our customers work smarter, not harder.
If you want to learn more about how technology can boost your business, request a callback from our team today.