Welcome to the third installment of our Work from Anywhere series, where we talk about how work is changing and the ways Constellation1 is helping you adapt.
This year has upended our everyday lives more than we ever thought possible. New realities like "social distancing" became the norm seemingly from one day to the next. Since these restrictions were imposed to keep everyone safe and healthy, all industries—including real estate—had to adapt quickly. Overnight, all in-person meetings, including open houses and showings, were put on hold indefinitely.
Even though some regions are slowly getting back to normal, social distancing guidelines remain. Many sellers won't feel comfortable hosting any number of people in their homes for a showing—much less an open house. Buyers, on the other hand, will probably want as much information as possible about a property before deciding to visit in person and make an offer.
To make things easy for sellers, buyers, and agents, we have solutions for virtual open houses, virtual showings, and video tours that make house hunting safer and more convenient for everyone.
Virtual open houses and showings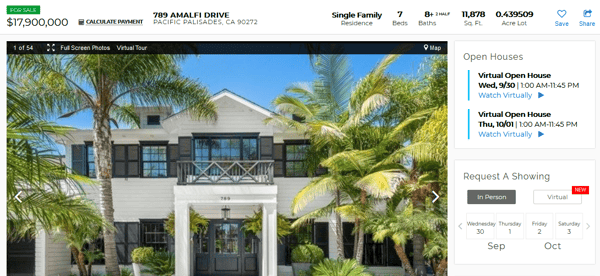 Constellation1's updated Open Houses and Showing widgets
According to the 2019 Zillow Consumer Housing Trends Report, 46% of buyers wished more listings had better virtual features, like 3D tours. While virtual open houses have been gaining in popularity for some time, during COVID, they skyrocketed. In light of the pandemic, multiple listing services (MLSs) across the country started including virtual open house fields in their data feeds. As MLS data experts, we worked quickly to update our Open Houses widget to make sure all links to virtual open houses are included where available. This helps prospective buyers make sure they never miss a virtual open house, giving them an opportunity to attend a scheduled tour of the property, ask the agent questions, and read questions from other interested buyers, no matter where they are.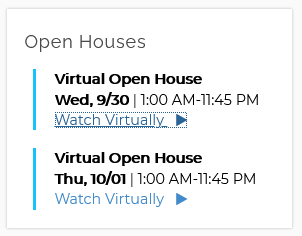 Easily display Virtual Open Houses when available
In addition to virtual open houses, the use of virtual showings has gone through the roof. Whether buyers are interested in virtual showings for health reasons or simply for convenience, they can now request to see a property from anywhere, whether they're on the other side of the country or the other side of the world. When buyers request a showing, they can easily pick between in person or virtual and choose from a variety of platforms, from FaceTime to Zoom, according to the agent's presets.

New Virtual Showing option
Video tours
Our industry-leading real estate website builder also has a robust feature to seamlessly embed video or 3D tours. In the past, listing photos were enough. Today, if you want to give potential buyers an even better experience viewing a listing, without having to go see it in person, you need video tours. With our website builder, they literally couldn't be easier to add. Just copy and paste your YouTube or Vimeo link into the widget to display your video on your listing page. With video tours, you will increase your inquiries from serious buyers while keeping yourself and your sellers safe.
This year has led to serious tech advancements and behavioral changes in real estate, but we haven't missed a beat at Constellation1! If you're ready to add the best virtual offerings in the industry to your website, get in touch with us today.
Did you miss our last Work from Anywhere post on our CRM Mobile App? You can read it here.