The kids are back in school, pumpkin spice is on the menu, and across much of the country, there's a little chill in the air: it's officially fall!
The market is leveling out in parts of the US, prompting the New York Times to speculate whether the seller's market that has been dominating for months is over. Whether your market is cooling down or is as hot as ever, our aim is to improve your existing front office tools so your agents can wow your clients.
In this Product Release Series post, we'll cover the honorable mentions for our front office releases in September, including improvements to our CRM and Relocation solutions. These updates were released to production on September 21, 2021.
Constellation1 CRM with mobile app
Phasing out our old CRM dashboard
Back in May, we launched the new CRM dashboard (see May's release notes), which has proven to be very popular with our CRM users!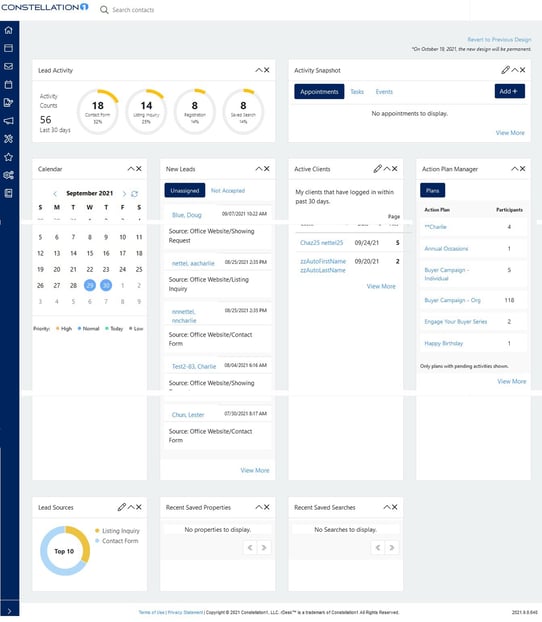 Given the success of the new layout, our next step will involve phasing out the previous dashboard. Users will lose the option to roll back to the traditional view, so if you haven't already, please familiarize yourself with the new dashboard. We promise you won't regret it!
Faster contact loading on mobile
Our mobile app is one of our most popular CRM features because agents shouldn't have to be in the office to use real estate's best CRM software. We have improved the overall performance of our CRM mobile app to help your team be more productive and efficient.
To speed up contact loading on mobile devices, we've made an update, so the first 50 contacts load and display right away. The system will then continue loading your remaining contacts in groups of 1,000 until all of them are loaded and displayed.
New mobile-responsive modal for adding contacts
To make it easier to add new contacts from your mobile device, we've updated the "Add New Contact" modal to have a friendlier mobile-responsive format. This makes it's easier to add contacts to your CRM while using a small screen.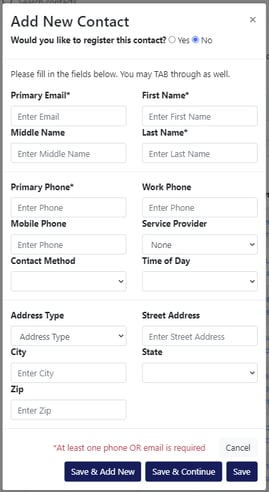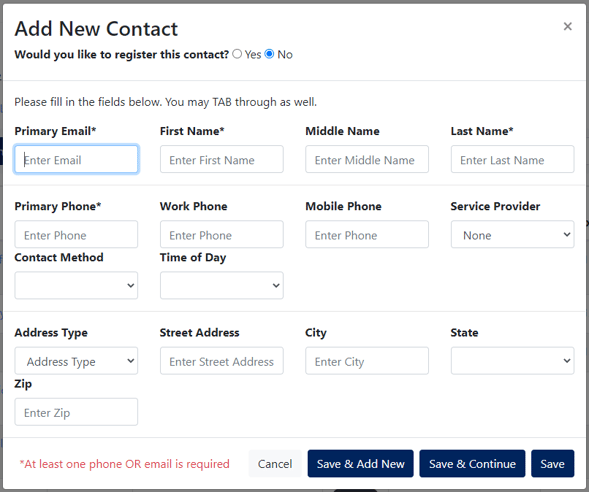 We've also fixed a couple of bugs during flyer generation, uploading agent photos to their personal profiles, and duplicate property addresses displaying in lead showing requests.
Even more great Relocation enhancements
Last month, we shared multiple enhancements to our industry-leading software for relocations, which can be a major source of business for brokerages. We're thrilled this month to announce even more enhancements to further improve this solution.
Easier email filtering
It's easy to lose track of emails when you receive so many, especially in a shared inbox. The ability to sort through and see the emails that are most relevant to just you can be a major productivity boost.
To make email filtering easier, we've added the ability to sort them by recipient. Each Relocation user has a unique email database associated with their user ID, so when a particular user is signed in, the emails that display in the "Email Responses" tab will be specific to that user.

Add local files to Quick Emails
To make Relocation even easier to use, we have added the ability to attach files stored locally on your computer to "Quick Emails."
In your list of clients, click the email link next to the intended recipient's name. A modal will open, and we've added an "Open File Browser" button that you can click to navigate to and attach files stored on your computer.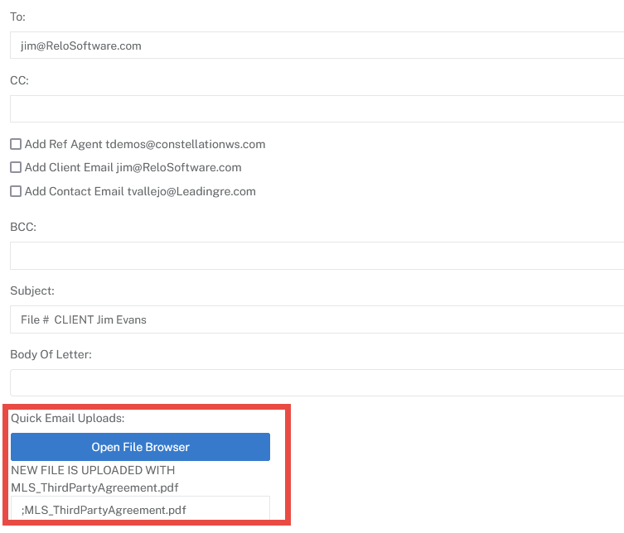 BONUS: additional eSign API update
The "LogMeIn API" supports eSign signing session creation from inside your company's applications.
We've updated it to allow system administrators to update user roles directly through the API, without having to be logged in to eSign's web-based electronic signature platform. This saves admins time and makes for a smoother user experience.
We also made a variety of bug fixes that you can read about more in depth here.
Continuous updates to serve you better
At Constellation1, we're continuously working to improve our solutions so that they don't just meet your expectations, they exceed them. Check back next month for October's honorable mentions.
If you have any questions about this release or any of our product features, get in touch with us today.
If you missed our last product release post, you can read it here