With back to school on the horizon and the first leaves starting to change color, there are some serious fall vibes coming through this August.
The change in weather hasn't led to a slowdown in the real estate market: according to NAR, the median days on market for houses priced between $100,000 and $500,000 was just six days, with homes up to $1,000,000 on the market for just eight days! That's record-breaking!
At Constellation1, we're always working to find ways to help you take advantage of any kind of market and serve your agents and customers better.
In this Product Release Series post, we'll cover the top front and back office releases for August, including improvements to eSign, Relocation, and digital marketing tools. These updates were released to production on August 24, 2021.
Easy Electronic Signatures
Better ways to manage e-signatures
We've made a major improvement to our LogMeIn API, which supports eSign signing session creation in your company's existing applications. You can now use the API to hide the "Add" signing session button to help avoid confusion and provide a single source for creating new signing sessions.
Now, the "Add" button below will be hidden by default. Your admin can choose whether your team needs to display it and make the necessary adjustments in the API.

Now create signing groups through the API
We've also updated our API to include a parameter that will pass in new group information and create groups right in eSign. This parameter allows you to have one source of information and automate the group creation process for increased convenience and efficiency.
We also made our normal minor bug fixes to ensure you have the best user experience whenever requesting or providing electronic signatures.
Revamped Relocations
Relocations can be a major source of business for any brokerage. Constellation1 Relocation provides more than 150,000 referrals annually and supports the entire relocation process in a single web-based app from lead to close. We've been working hard this summer to make Relocations even better, and we're excited to share these releases with you.
Better relocation lead tracking and management
We all know that leads are the fuel for driving deals. We've made several updates to make relocation lead management even easier.
First, we've added two new options to the Quick Incoming and Quick Outgoing pages when adding leads to the system to help you identify how agents are connected to a particular lead.
The new options are:
Agent Generated, to indicate the lead came from a specific agent
Agent Requested, to indicate the lead requested to work with a specific agent
These new options are designed to provide better reporting, so you can identify what agents are generating the most relocation leads.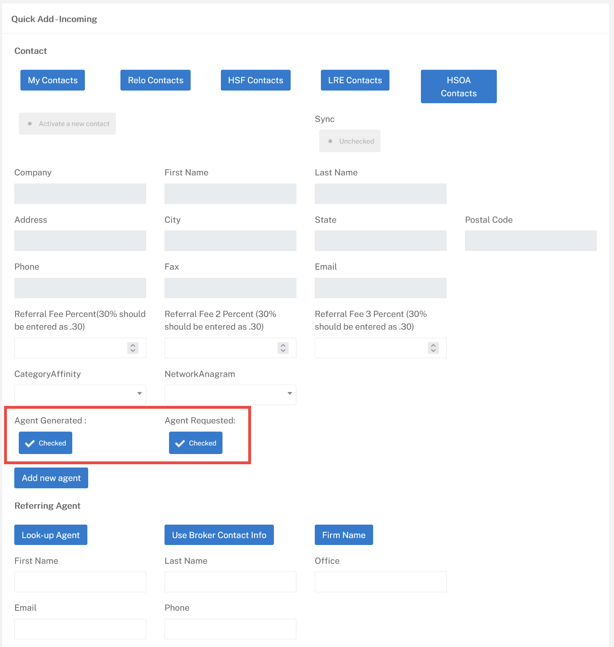 We have also made it easier to update the relocation manager assigned to one or more leads. When making this change, the owner of the tasks associated with a lead will also be updated to the new relocation manager.
Making this change is easy. On the client's page, select the leads who should be reassigned to the new manager, then click Update. A modal will appear where you can select the new manager and then click Change.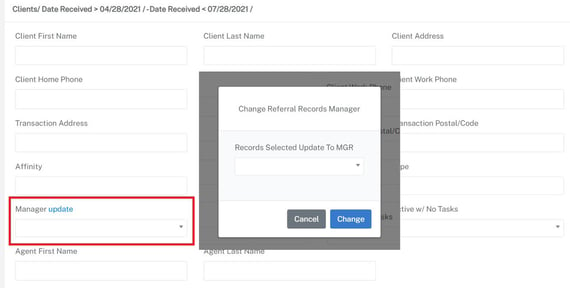 Better relocation communications
Keeping track of all your relocation lead correspondence is critical to closing deals quickly and efficiently. Who wants to be navigating between dozens of tabs and programs to see who said what, when? Not us!
To that end, we have updated our interface to display the quick emails you send in the notes section for each lead.
To send a new quick email, open a quick email, type your message, attach any documents, then click send. The email will automatically be added to the lead's notes section for easy reference, so you can see exactly what you sent.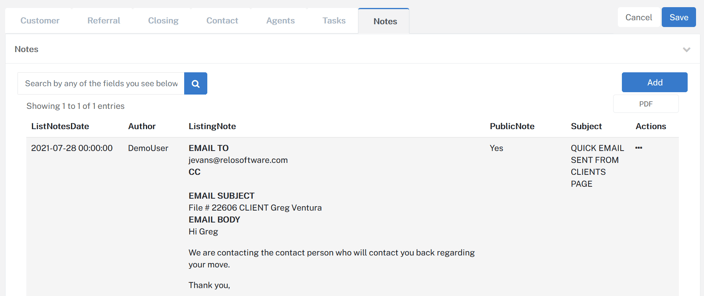 We've also made an update so you no longer need to copy and paste external email messages into the notes for each lead. This update allows you to receive emails in the Relocation system and add them to the lead notes.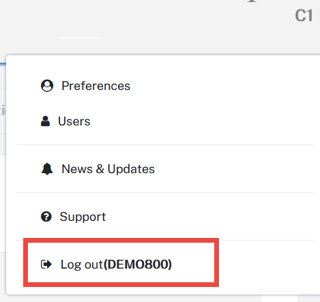 To send emails into the system, you'll need to know the name of your database. To check the name of your database, click on your name in the top right corner of the top banner section to open the preferences dropdown menu. The name of your database will show in this menu list next to the "Log out" prompt.
The email address to send emails to will be your database name@reloemail.com. If your database were named MyDatabase, your email address would be mydatabase@reloemail.com. Incoming email messages will appear on the Email Responses page.
To add the email to a lead, click on the ellipsis dots in the "Actions" column and select "View/Import," then select the client and click the "Import Changes" button. Your email will now show in the notes page. It's that easy!

Finally, you spoke, and we listened. Based on a customer request, we've updated your ability to edit autopilot emails. You have always been able to adjust the send date, but now you can also edit the details.
In the "Activities" section in the "Auto Pilots" tab, click the ellipsis dots in the "Actions" column and select "Edit".
A modal will open with the editable details, which include:
From
Uploads
Description
Who
Sent To/CC
Associated agents
And more
This update allows for more customized communications and a better customer experience.
Easily edit relocation tasks
Editing tasks in the Relocation application is now easier and more intuitive. This update eliminates the need to scroll to the bottom of the page to edit a task.
Now when editing a task, a modal will appear. This modal includes all the items that would normally be available to you when editing a task and puts them at your fingertips for easier editing.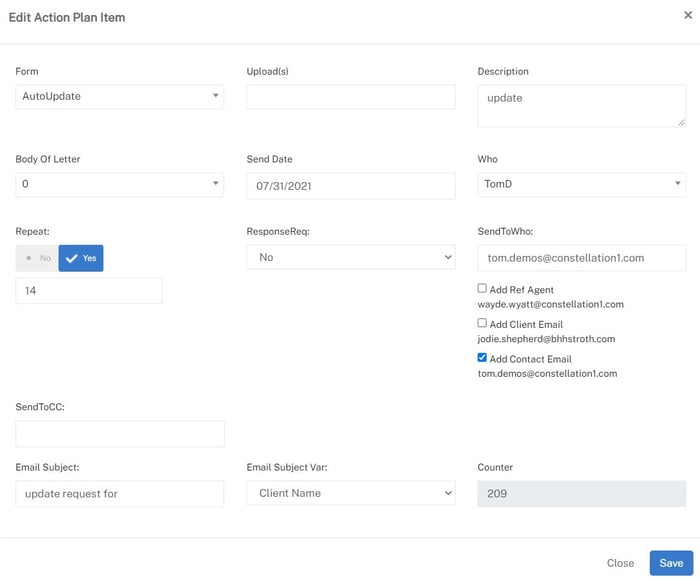 Smoother HSF network integration
Many of our Relocation customers are members of the HSF network. We've made it easier and faster to search for relocation partners via the HSF network by adding a new dedicated search feature.
Within a lead record, click on the "HSF Contacts" button to open the search modal. If you know the name of the partner contact, just start typing their name. The list will auto-filter as you type.
If you don't have a name, you can use the search options to search by:
Country
City
State
Postal Code
Language
Market Designation
As you enter information into these fields, the partner contact list will filter down.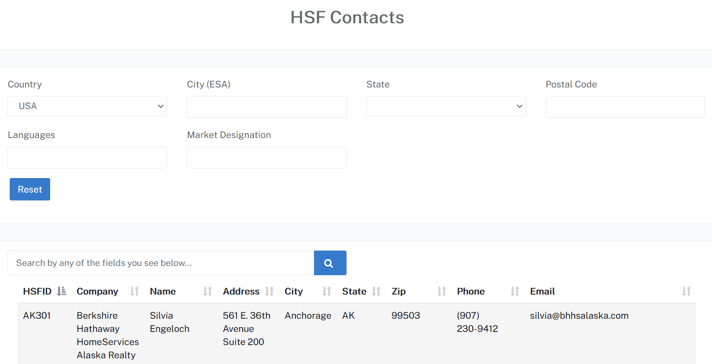 Enhanced Social Media Management for Your Brokerage
Social media marketing doesn't have to be a chore with the right tools, like Paradym by Constellation1. We've made two small but mighty updates to our social posting feature to ensure your posts are sent out when and how you expect them to.
Automatic tweet shortening
Tweets must be 280 characters or fewer to meet Twitter's posting requirements. Previously, tweets longer than 280 characters simply wouldn't post. This was often due to a long agent social signature.
We have now improved social posting to be able to post tweets that exceed the character limit. Instead of failing to post, tweets that exceed 280 characters now will be shortened. First, the application will look for white space that can be removed. If none is found, the end of the tweet will be shortened to 280 characters without changing content URLs. This will allow you to post your tweets on schedule and maintain your Twitter presence. For best tweet results, make sure your text is always 280 or fewer characters, including your signature (if applicable).
Additional content no longer required to post
Times have changed, and we are rolling with those changes. You can now post photos and videos without writing additional content to go with them.
In the past, we felt a description or comment with a photo or video personalized the post, allowing users to increase engagement. We still feel this way, and writing personalized text is still considered social media best practice. However, we recognize that what you want to say is sometimes embedded in the photo or video, alleviating the need to include an additional information in the post. Therefore, it is no longer required.
Continuous Updates to Serve You Better
At Constellation1, we're always working to ensure our solutions meet the highest standards of quality. Make sure you check back here next month for our honorable mentions for September.
If you have any questions about this release or any of our product features, get in touch with us today.
If you missed our last product release post, you can read it here.